FIRST IN CUSTOMER SATISFACTION
For each new fuel oil customer you refer to Chester County Fuel Inc. a referral reward of $25.00 will credited to your account after the new customer's second fuel oil delivery has been delivered and paid for.
Welcome to Chester County Fuel Oil, Chester County's one-stop shop for everything heating and cooling. Chester County Fuel Oil has been keeping customers comfortable in their homes for over 40 years and is the most trusted fuel oil and HVAC service company in Chester County, PA.
From heating oil delivery to heating, air conditioning, water heater, and indoor air quality services, Chester County Fuel Oil does it all. Service plans and 24/7 emergency services are also available.
Chester County Fuel Oil provides numerous discount opportunities, including senior citizen discounts and a customer referral rewards program. Read our terms and conditions for more information.
Click here to access all of Chester County Fuel Oil's program forms, applications, and contracts.
GET TO KNOW OUR COMPANY AND SERVICES
Chester County Fuel, known for quality workmanship, competitive pricing and exceptional customer satisfaction, has long been the area's Home Heating Oil Provider of Choice. With over 40 years of Heating and Cooling experience, count on us to be the One Stop Shop you can trust to keep your home comfortable all year long. We're proud to say that we've been awarded The Daily Local Readers' Choice "Best of Chester County" for eight years in a row. Our highly-skilled technicians pride themselves on providing timely service call response, along with a proactive approach to customer service. We strive to provide smart, effective, cost-saving options for each and every customer, in all that we do.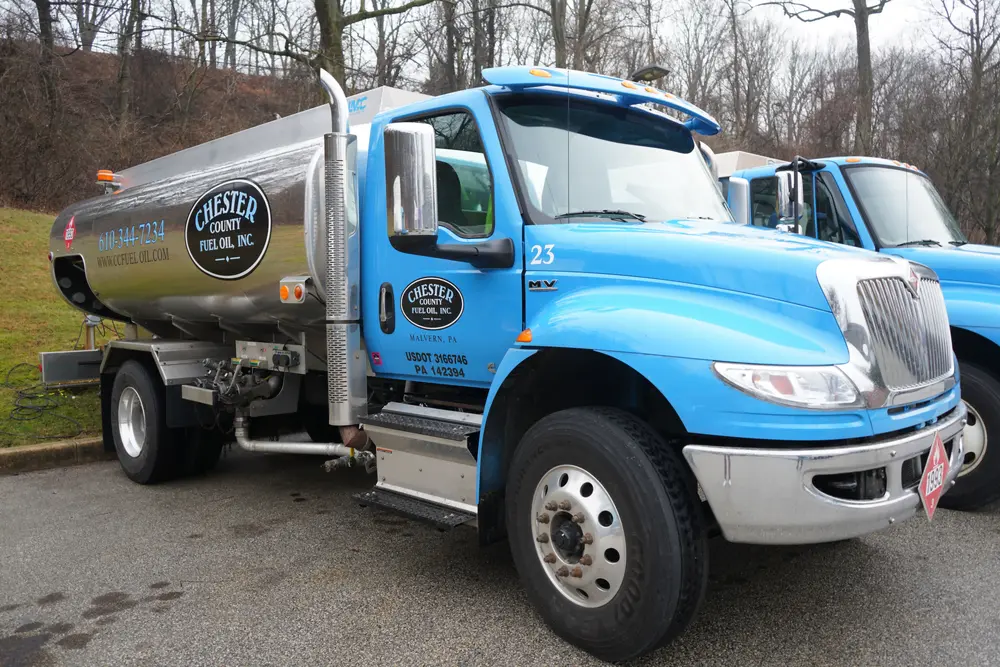 Trusted By Residential and Commercial Customers All Over Chester County
Chester County Fuel Oil's commitment to quality work, exceptional service, and great prices has made it a well-trusted staple in the West Chester, PA community and as a proud recipient of The Daily Local News "Best of Chester County" Readers Choice Award for eight years in a row, the results speak for themselves. Read more about what Chester County homeowners have to say about their Chester County Fuel Oil experiences.
Family Owned and Operated West Chester Fuel Oil Delivery and HVAC Services
Family-owned and operated out of West Chester, PA for over 40 years, Chester County Fuel Oil has developed a reputation for providing high-quality products and great service. 
From prompt fuel oil delivery services to the installation and repair of oil burners, furnaces, heat pumps, air conditioning systems, hot water heaters, and more, Chester County Fuel Oil is the local HVAC service company Chester County homeowners trust for all their fuel delivery, air conditioning, and heating system needs.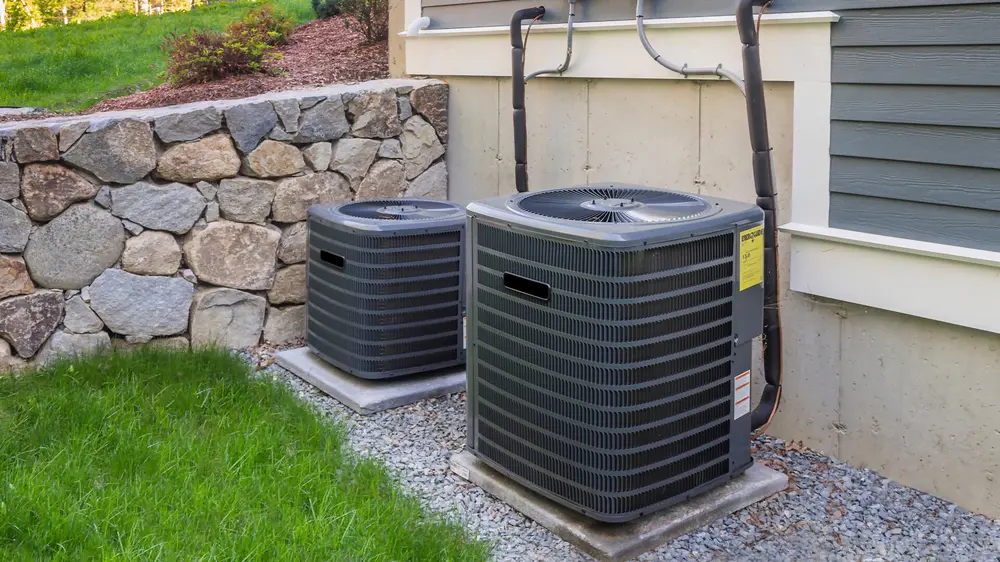 Reliable Home Heating Oil Delivery
A home's oil burner is useless if it doesn't have any heating oil, so Chester County Fuel Oil specializes in providing reliable and prompt heating oil delivery to keep Chester County oil boilers and furnaces running all winter long. 
Offering both automatic and on-demand delivery services, homeowners can rest easy knowing that they'll always have the home fuel oil they need when they need it most.  No matter which delivery option they choose, Chester County Fuel Oil's pricing is incredibly fair within the Chester County region.
Heating and Air Conditioning Systems Repair and Installation
A home's heating and cooling system is essential to a home's ability to maintain a comfortable temperature, however even the best HVAC systems eventually need to be repaired or replaced. Chester County Fuel Oil offers top-of-the-line professional HVAC services to meet all these heating and cooling needs. 
Chester County Fuel Oil's certified technicians have extensive experience with all types of heating and cooling systems, allowing them to quickly and efficiently address any HVAC issues no matter if it's simple routine maintenance or the installation of a new HVAC system or heat pump.
HVAC emergencies happen, but with Chester County Fuel Oil's commitment to providing 24/7 emergency services, these unpleasant surprises can be dealt with in only a few hours instead of days or weeks.
In the event of an HVAC system malfunction or shortage of heating oil, Chester County Fuel Oil's emergency repairs and delivery service are here to help around the clock.
Chester County Fuel Oil also offers free estimates to all potential customers who are thinking about installing new HVAC systems in their homes. Pricing is important, and it's best for homeowners to know what the bill will be upfront, so Chester County Fuel Oil is dedicated to providing expert consultation so that customers know exactly what their options are and how much they'll cost.
Family-Owned And Operated Chester County Local Oil Delivery
Chester County Fuel offers reliable, cost-effective energy products and solutions for all of your heating, cooling and indoor air quality needs. Our home comfort services include installations and service of oil burners, furnaces, hot water heaters, heat pumps, air conditioning systems, humidifiers, electric air cleaners and more.
OUR CUSTOMERS SAY IT BEST!
"I want to thank Chester County Fuel Oil for the wonderful service that I received yesterday. Dale came to my home to service/clean the furnace. He was prompt, personable, professional and thorough. Although I had paid another company for this service each year in the past, Dale informed me (and showed me the proof) that the cleaning had been very poorly done. I very much appreciate the excellent job that he did and am so glad that I switched to Chester County Fuel Oil."
Peggy Pillard
"Excellent job"
"I hate dealing with the AC or heat issues in my house and thanks to these guys - I don't have to! When your AC goes down unexpectedly and it's 89 degrees in your house - Who you gonna call? Let me just say, when it comes to reliability, pricing and impeccable customer service- these guys are top notch. They helped us out hugely in the past and continue to do so. We've used others years ago - and just cannot compare. This company is in a league of their own. Thanks to them, I'm sitting in a cool house in the summer and a warm house in the winter!"
Jen Pierce
"... a league of their own"
"Thank you for so kindly providing a temporary fuel line and start up of the furnace so my tenant could have a worry-free wait for her baby's arrival. I was spared one more expense and I am so grateful to you all! On my list of things I'm thankful for on this Thanksgiving day, your company is at the top!!"
Sally Thompson
"I am so grateful to you all!"
"You have always been very upfront, honest and cooperative. I appreciate this and wish more companies handled their business and treated customers as well as you do. Thank you"
Tom Getchell
"upfront, honest and cooperative"
Your crew has been providing service for our furnace and air conditioners since 2010. The extent of diagnostic work and prompt correction of our air conditioning problem last week was a typical example of the fine service we have been receiving."
Dot & Bill Diehl
"fine service"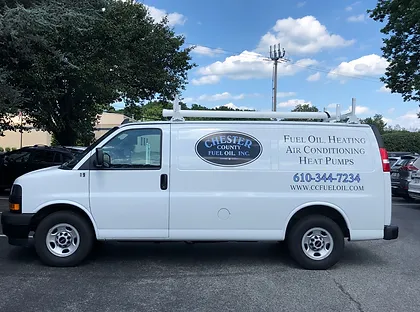 Contact Chester County Fuel Oil Today
When it comes to fuel oil and HVAC, there is only one company Chester County trusts to get the job done right, and that's Chester County Fuel Oil. Now serving all of Chester County and the surrounding region, including West Chester, Newtown Square, Chadds Ford, and many more. Call Chester County Fuel Oil today!
Chester County Fuel offers a wide variety of professional, reliable, and cost-effective energy solutions. Every service we provide is done with your comfort in mind. We want to ensure that every customer is delighted with our work, and with over 40 years of experience, we have the knowledge and skill to provide top-notch service every time.
Frequently asked questions (FAQ)